Last Renewal : Jan. 2021
Welcome to The Sky Quake Intro Room

---





To YouTube Theater
--- Something unusual happened to Sirius in a winter night sky......
                     But nobody knows it yet. ---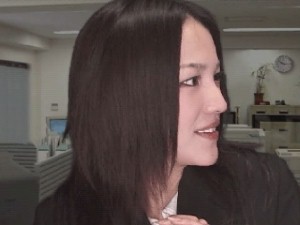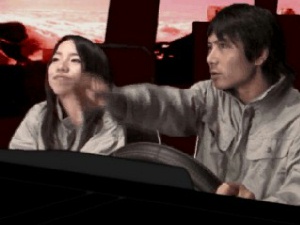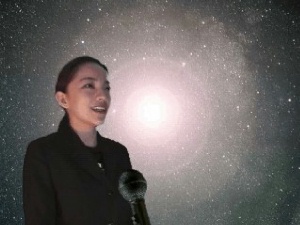 S t o r y
In a winter evening, Akiko Izumi a curator of the science park was told the dimming of Sirius by children
and reported this in Astro-Net. The net member Imada using Hawaii Subaru telescope
predicted the gravitational collapse and the nova explosion of the Sirius
subordinate star as a result of observation. A huge flash
lighted up the earth before long.
A prediction came true.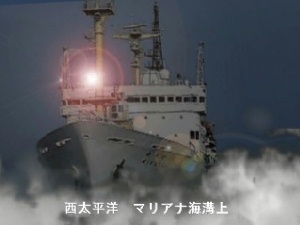 From point-blank range of 8 light-year,
the shock wave of the heavy particle should arrive at the
earth later. But the rush time and damage scale were not clear. As a
result of predictive expression by a heretical net member, the shock wave should burn
down the most of the surface of the earth after a half year. Where is a safety zone for the human…?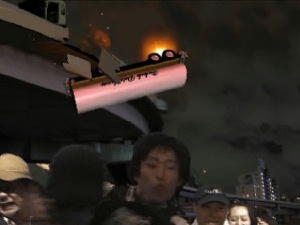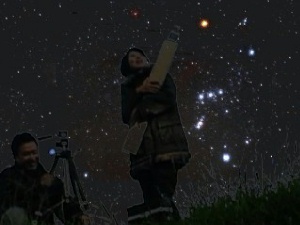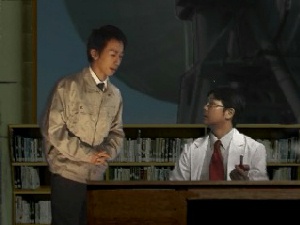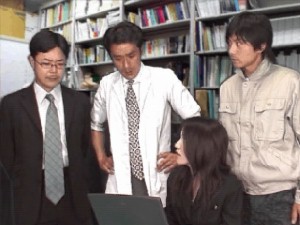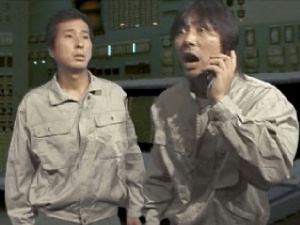 | | |
| --- | --- |
|     Original Text |  : Kyoichi Shimizu "The Sky Quake" |
|     Director/Scriptor |  : Tohachiro Yamaguchi |
|     Codirector   |  : Yusuke Jin |
|     Music   |  : Yoshitomi Suzuki |
|     Supervisor   |  : Yumeaki Hirayama |
|     English Subtitle |  : K.L.Tyndall S.Tyndall |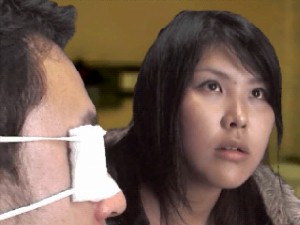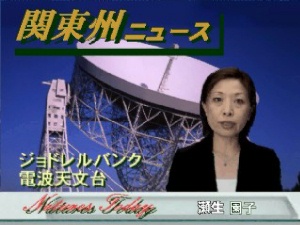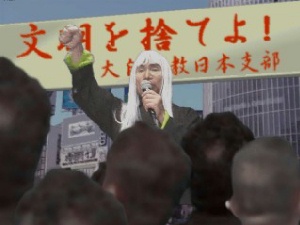 _______
    Cast
  : Akiko Izumi
  Ayaka Ikezoe
 
  : Imada
  Shuichi Watanabe
 
  : Pupils
  Takuya Yoshihara
  Momoka Aoki
  Ryota Koyama
  Yukina Aoki
 
  : YSP Chief
  Satoshi Yoshida
 
  : Chief Astronomer
  Kensaku Tamura
 
  : Astronomer
  Masataka Ohtsu
 
  : Chief Scientist
  Mitsunari Okabe
 
  : Hatori
  Daisaku Yamada
 
  : Researcher
  Kazuyuki Kobashi
  Kikuko Sakai
 
  : NRO chief Hiramori
  Kota Gotoh
 
  : NRO researcher
  Masaari Sakamoto
  Megumi Takehara
  Hiroyuki Ichikawa
  Mie Akizuki
 
  : Kamiokande Chief
  Kazuya Toyoda
 
  : Researcher
  Maya Kano
  Hiroshi Miyamoto
  Ayako Tamura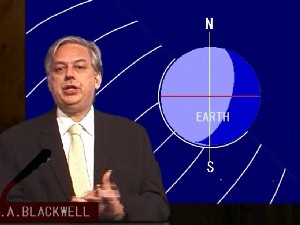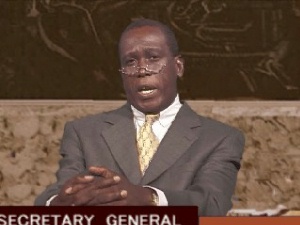 _______
 
  : Announcer
  Kayoko Yamato
  Sonoko Fukuchi
  Ai Sakauchi
  Naoko Aoki
 
  : Colombo
  Kazuyoshi Hiyama
 
  : Algol
  Kana Sekine
 
  : Science Minister
  Kyoichi Shimizu
 
  : Master Monk
  Masataka Ozaki
 
  : Phantom
  Kota Gotoh
 
  : Oculist
  Yuichi Yamashita
 
  : Sakazawa
  Masaru Jibiki
 
  : Prime Minister
  Chikara Ishizuka
 
  : Legislator
  Yuichi Yamashita
  Satoshi Nozaki
  Hiroyuki Ichikawa
 
  : Foreman
  Masatoshi Arita
 
  : Worker
  Shinichi Yokohama
 
  : Father of Akiko
  Kazuya Toyoda
 
  : Sister of Akiko
  Uetsuki Aya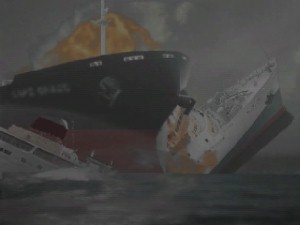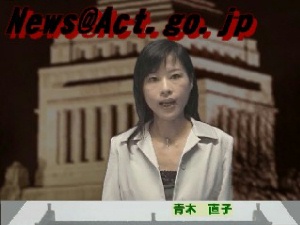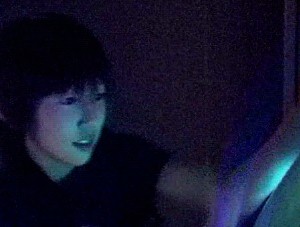 _______
 
: Nagai
  Katsuhiro Amano
 
: Boatswain
  Hideki IIkubo
 
: Second Mate
  Satoshi Nozaki
 
: Driver
  Tohachiro Yamaguchi
 
: Yonehama
  Shigefumi Ishihara
 
: Handicapped man
  Kazuya Toyoda
 
: Gravida
  Satomi Kawai
 
: Refugee
  Junko Kawakami
  Yumi Narita
 
: Secretary‐General
  Joe David
 
: Russia representative
  Paul Kaminski
 
: China representative
  Megumi Takehara
 
: VLA director
  Max von Schuler
 
: VLA researcher
  Maxim Kolesnik
  Alla Kozmina
___Voice performer
: Costa Osadov
  Manuel Doncel
  Pascal Morineau
  Kyoichi Shimizu
  Oziel Nozaki
 
: Janice Asuncion
  Asif Hammed
  Ma Ping
  Jiang xiao-qing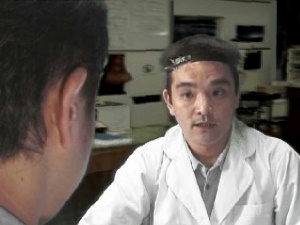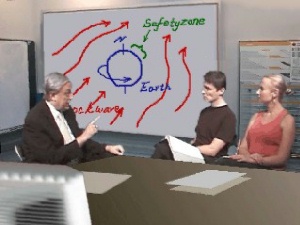 | | |
| --- | --- |
|     Support_ |   : Zero Company |
|          |   : First Ace (G.F.A) |
|          |   : First Class Co.,Ltd |
|          |   : Junes Inc. |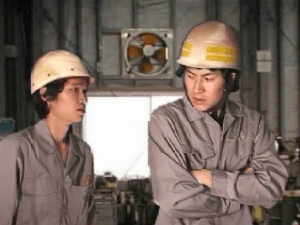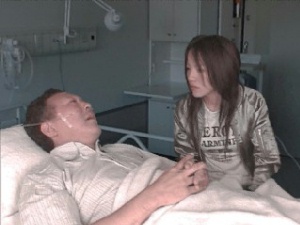 | | |
| --- | --- |
|     Produce |   : Executive Comittee of "The Sky Quake" Produce |
|     Cooperation |   : Yamamura Memorial Authors Net Society |
|     Release |   : April 29, 2007(Japanese version) June 29, 2016(English version) |
|     Running time |   : 1h 26m |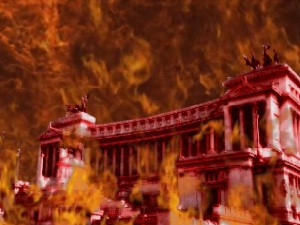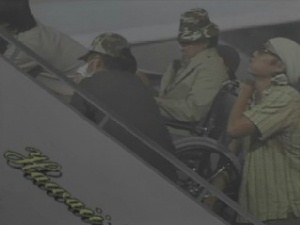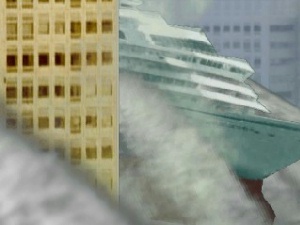 Special Thanks for references of CGs :
         UN  (The United Nations)
         NASA(The National Aeronautics and Space
              Administration)
         NRAO(National Radio Astronomical Observatory)
         NOAA(National Oceanic and Atmospheric
              Administration)
         TBS (Tokyo Broadcasting System Inc.)
         VCE (Visual Concept Entertainment)
         Airplanetv.com
         archive.org
         NAOJ(National Astronomical Observatory of
              Japan)
         ICRR(Institute for Cosmic Ray Research)
         NEIS(National Institute for Environmental
              Studies)
         GSI (Geographical Survey Institute)
         MOD (Ministry Of Defense)
         Pentagon.gov
         JAL (Japan Air Lines)
         NMESI (National Museum of Emerging Science
              and Innovation)
         MMS (Museum of Maritime Science)
         MHI (Mitsubishi Heavy Industries,Ltd)
         MGLAB (Micro-Gravity Laboratory of Japan)
         YETB(Yokohama City Economic & Tourism Bureau)
         Many other presenters

---
Copyright(c) 2006-2021 Executive Comittee of "The Sky Quake" Produce
All Right Reserved